So, last week I took a trip out to OKC to visit my family for my birthday. This trip felt different to me, for 2 reasons. The first is because it was the first time ever that I came home to a house without Brandy, my sweet dog who passed away this past January. I'm so used to having her greet me right as I walk in... and I really missed it. She was always so happy to see me and the feeling was mutual. The other reason it was different... somehow, I felt more like an outsider to Oklahoma during this trip. I realized how invested my life has become to living in California. I can't really find the right words to fully explain what I mean by that though... but I could definitely tell that
Oklahoma City is no longer my home
. It has become just another place where I visit friends and family. It was kind of surreal coming to that realization. But looking back on my trip, there's no doubt that California has become my home now. I'm not sure when it happened, but somehow in the course of the [almost] 2 years that I've been here, it became my home. Though, in no way am I saying that I'm not proud to be an Oklahoman, nor that I will ever outgrow or forget that part of my life.
Anyway, I do have a few photos from the trip. So I'll get on with that, since that is the main purpose for this blog! The first word that comes to mind when I think about the pictures as a whole is a "potpourri" of photos. You'll see what I mean.
I'll start with some photos of my brother's adorable dogs: Mattie, his golden retriever; Lulu, a pup that they started out fostering, but are now in the process of adopting; and Paige, an utterly adorable 6-week old puppy that they are fostering to prevent her from being euthanized. If I could have snuck her on the plane back to Cali with me, I would have! She's the cutest little thing ever!!
Paige. It was extremely difficult to get a good capture of her because she was constantly moving around.

I caught this neat lighting effect, thanks to my mom who was taking a photo using her flash, at the exact moment that I was taking the picture!

Lulu's closeup. :)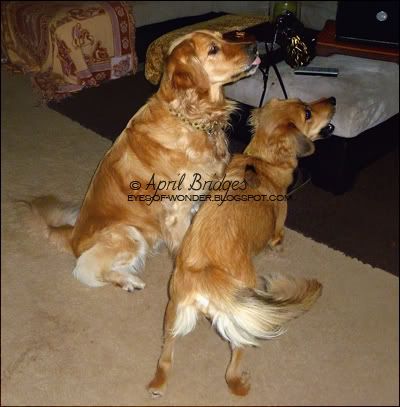 Mattie & Lulu caught in action.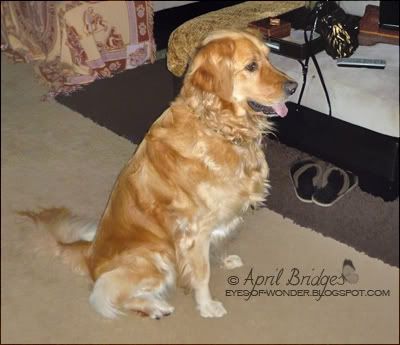 Mattie, waiting patiently for my brother to throw the ball. I took advantage of the opportunity for a cute photo!
So the next day, Mom planned on taking me to the OKC Zoo, since we hadn't been in a long time and it was something fun to do to get outta the house. It
was
really fun, and I got some interesting photos in the meantime.

An Andean condor that would not be quiet!!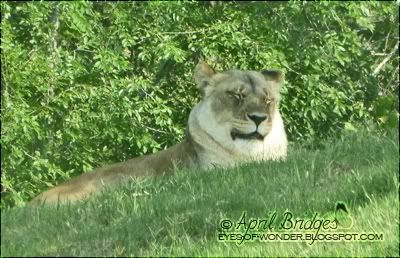 Sleepy lioness. I know the feeling.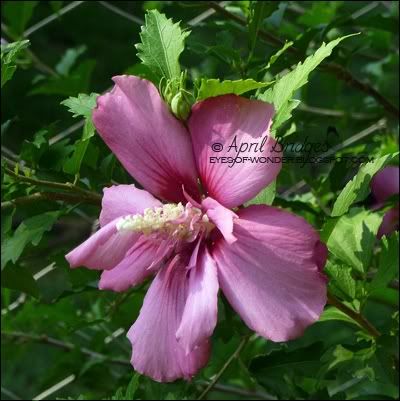 Of course I could not resist capturing the flowers...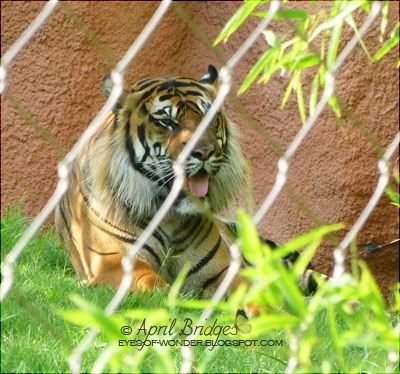 The unbearable heat was even getting to the tigers! They kept pacing with their tongues hanging out. This would have been a much better photo if that fence wasn't in the way.

I don't remember exactly what this is, but he's native to some region of Oklahoma..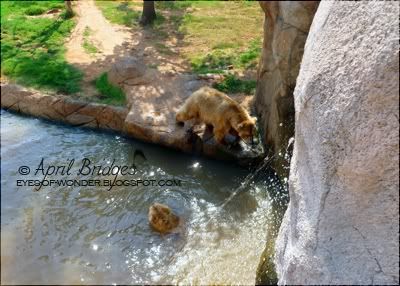 Grizzly bears in Oklahoma?!?!?!!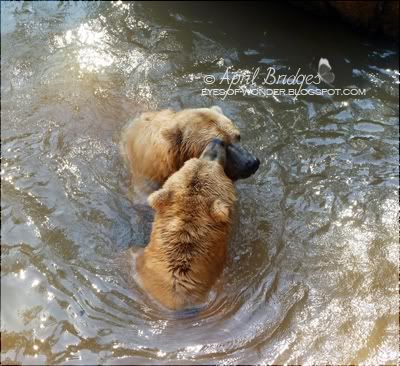 Awwwwwh!

Bald eagle that was posing for the audience.

Really now? I don't think any person in their right mind would even think about swimming in that!

Capturing the sign after walking all the way through the exhibit.

Beautiful lily!! (Found on the way to the new elephant exhibit)

And another!! I loved them.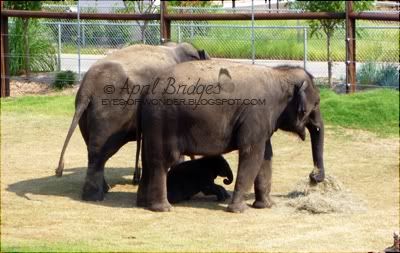 And after all the hype about the new elephant habitat, we finally made it! The baby elephant was cute!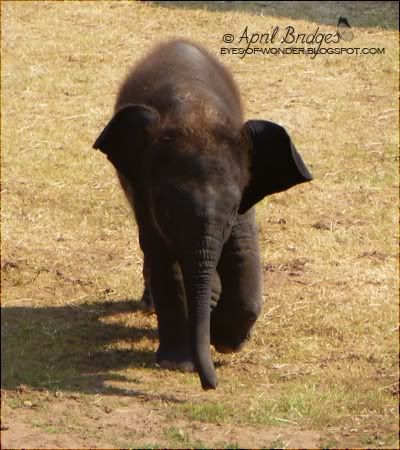 Well... as cute as a baby elephant can be...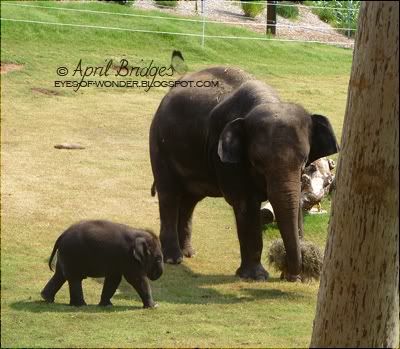 Carrying food over to the pond to have a drink as well...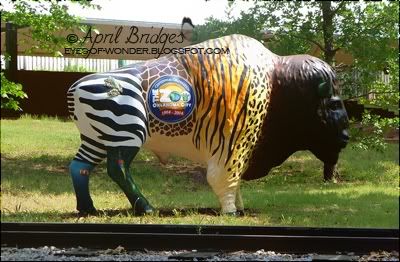 Just thought this was neat. :)
Yet another day, my mom planned a mini road trip for us, traveling along East Route 66 in Oklahoma. She wanted to catch some historic sites and stuff... though I'm not sure how much of that we managed to find... we made it all the way up to Stroud before turning back for the day.

Huge soda "sculpture" outside of POPS in Arcadia, OK. In all my years of living in OK, I'd never been to POPS before. They had some pretty good food! (and of course the pops, I got Rat Bastard Root Beer!)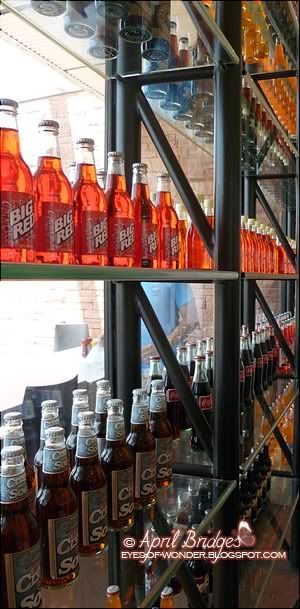 Inside POPS, looking for what soda we wanted to have with lunch...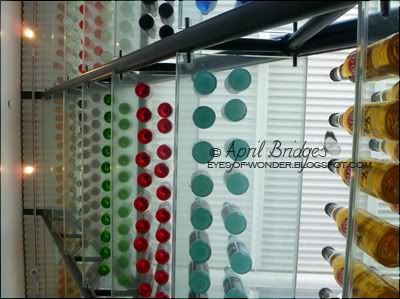 While waiting for our lunch (or after we'd already eaten, I don't remember exactly), I got this idea of taking this photo, at an awkward angle. What you see here is what was directly above us. The building is built at a diagonal and all of those circles you see are glued-down bottles.

Moving on to the road trip, this was just a random view along the way.

This was in Chandler, OK, letting you know exactly what you were driving on... there's a mural on the side too.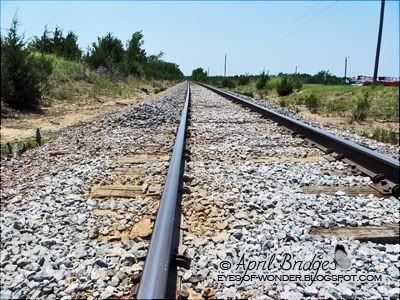 I love capturing train tracks. I'm not exactly sure why, since I hate rickety old trains and refuse to ride on them because of a traumatic incident that happened when I was young. But there's something strangely.. majestic about seeing the tracks fading away into the distance like that...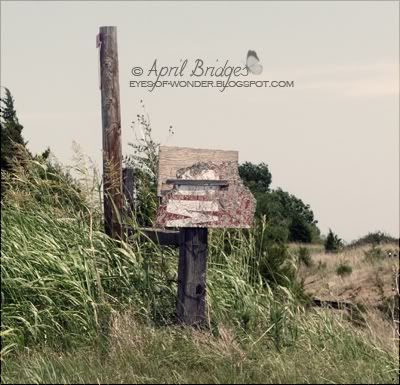 An old sign by the tracks.

The end of our road trip. Shortly after this, my camera officially died.