Mom and I @ Bubba Gump's.
So my mom's second visit here to beautiful Cali has come and gone.  It was really nice having her here for the week and being able to spend every single minute together this time.  We came across a few unexpected adventures, although not quite like last year's (which is a good thing, considering that it was a car breakdown...) and we had a great time.  Even though we had to interrupt her trip for a day of house-hunting, but that's another story. The whole trip reminded me of when Jacques and I would go on our weekend photography/tourist-y road trips back before I started working on the weekends.  It was nice to be reminded of that, I'd really missed those times of exploration and capturing some beautiful scenery.  Hopefully, within the next 2 or 3 weeks, we will be able to get back to some version of that.  I'm keeping my fingers crossed about this house we're hoping to get as well.  We need all the prayers/hope/faith that we can get!  I've come to realize that I have a love/hate relationship with the whole process...
Anyway, I'll get right to the photos:
We stopped here at Seaside Beach on the way to Monterey.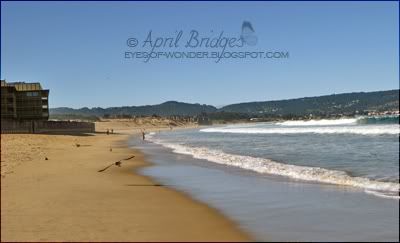 Another view of Seaside Beach... it was so pretty everywhere you turned!
More of the beach life.