Alright, so after the Cancun trip, my mom came back to California for a 9 day visit, where I took her on outings every day to see this beautiful state. She had an awesome time and I really loved all the time we got to spend with each other.
I'm starting with San Francisco, even though it was towards the end of her stay that we were able to get there. We took a ferry from Vallejo into San Francisco and it was an amazing experience. It was something that I hadn't done before, so I was happy to be able to share that with my mom.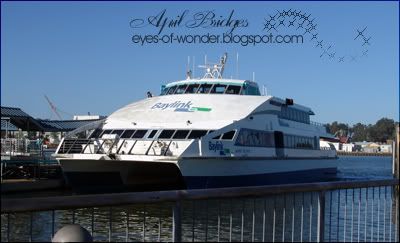 Our ride into San Fran.

Walkway by the ferry building before taking off.

"Tracks" looking back toward the ferry building.

Mom and I on the boat!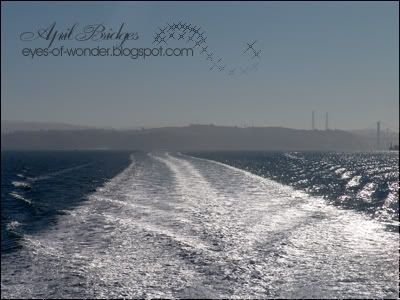 It was a beautiful ride, but so windy!

Going under the San Rafael/Richmond Bridge.

First glimpse of the Golden Gate Bridge from the ferry!

Alcatraz: Up close and personal.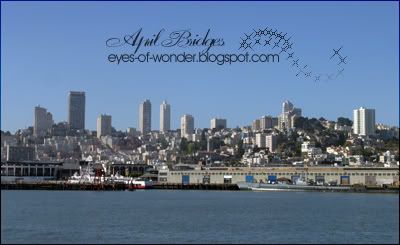 Getting close to San Fran!

Across the street from the Embarcadero Center.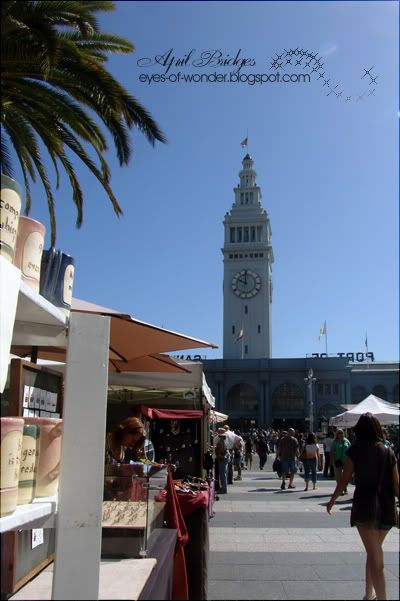 Amidst an arts and crafts festival, with the clock from the ferry building in the background.

Fountain/play area in front of the Embarcadero Center.
From there we walked to Chinatown: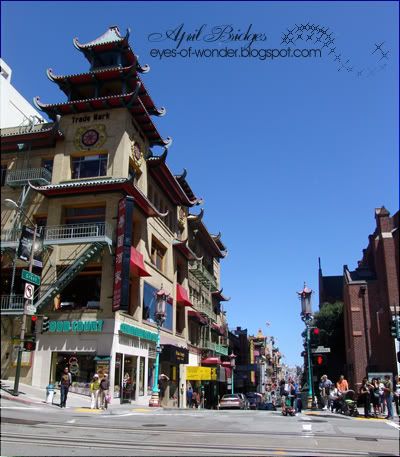 And then to Union Square:

Interesting upside-down flower trees that were all over Union Square.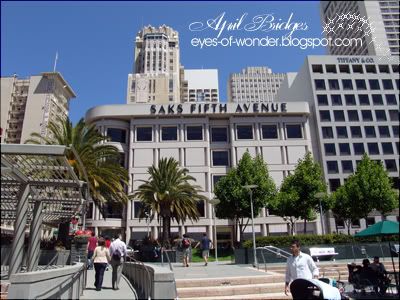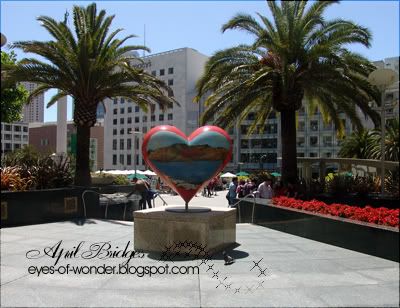 From Union Square we walked to Powell Street to wait in line to ride the cable car back down to Fisherman's Wharf and Hyde Street. Here's Mom and I caught in a semi-candid shot while riding the cable car.
Once the cable car ride was done, we walked the other way from Fisherman's Wharf towards the San Francisco Maritime National Historic Park. There's a little beach area there and Mom went walking on the shore for a little bit, but decided that the water was too cold!
And again we were back to walking. This time towards the marina overlooking the Golden Gate Bridge: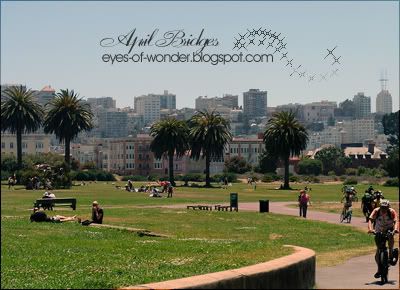 Pretty park along the way.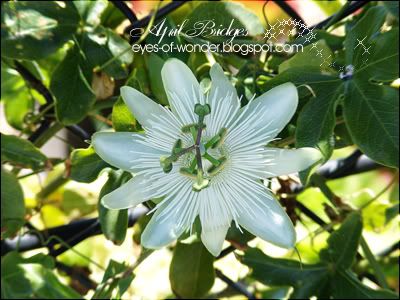 A very odd-looking flower in the marina... I'm still curious to know what exactly it is!

Side view...

And there's the beautiful Golden Gate Bridge ♥
We didn't have time to walk closer to the bridge to get some better views of it, so we backtracked and started the long walk towards the ferry building.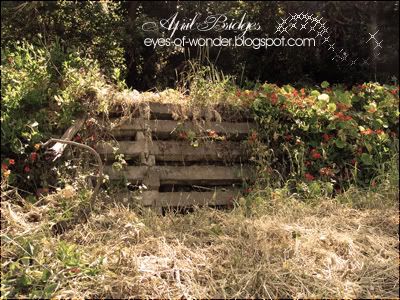 I'm not sure what inspired me to take this photo. Maybe it's the old-looking fence surrounded by those beautiful orange flowers... but I really like how this turned out.
Not far from the beginning of Fisherman's Wharf, we stopped here to watch this amazing acrobatics show by these awesome street performers. They are the Sardine family and they are in San Francisco training for the circus. They put on these shows and use the donations they receive to help pay for their schooling. When we took my dad to San Fran, we saw this same show and they were just as awesome back then. Funny story though, back then there were only three of them. They perform this joke where they pull someone from the crowd who's talking on a cell phone and that person ends up being a volunteer (You can see it in the video that I'll post of the show!). Well, the fourth guy in this act now just happened to be the same guy who was pulled from the show back in January when we last saw it! We confirmed it because Jacques ended up talking to him after the show and he said that he was the same guy!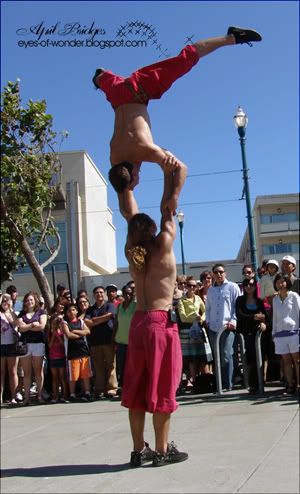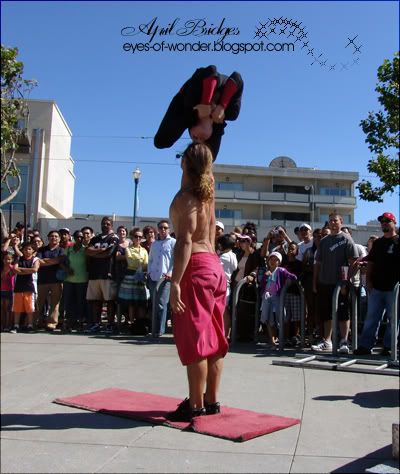 After this photo, I started recording the show:
(First part - playing from my YouTube account. If you're having problems with playback concerning either of the videos, feel free to click the link that goes to my YouTube profile page and view them from there instead.)



(Second part)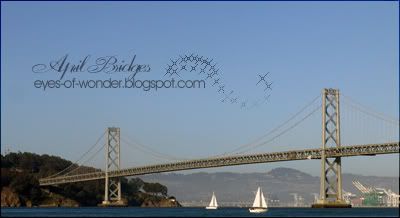 The Bay Bridge, taken while waiting for our ferry to arrive to take us back to Vallejo.

Since we did not have enough time to get some better views of the Golden Gate Bridge, I took Mom back to San Fran the next chance I got. It ended up being her last full day here and it was a really great way to end the trip as well.

It was incredibly foggy though and the fog continued to cover the bridge while we were there. But it's still pretty!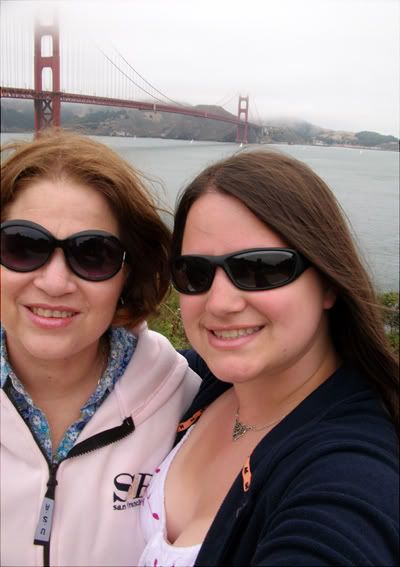 Mom and me with the Bridge =]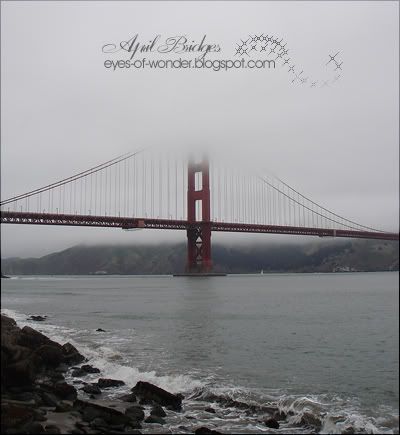 We ended up stopping at Baker Beach on the other side of the bridge to eat our picnic lunch we had brought with us... and just happened to find some amazing views of the bridge with the beach in the foreground! I had been wanting a view like this since the first time I came here! Sadly, my camera decided to die just before, so I had to use my mom's camera to get the following shots: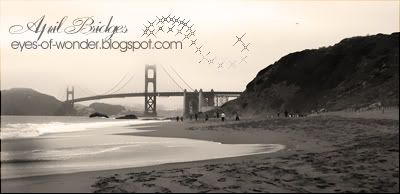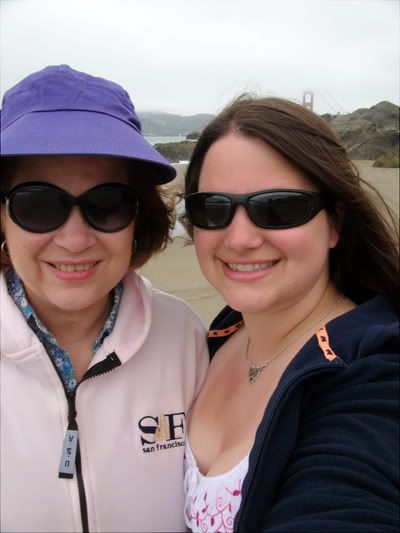 Mom and I again with a pretty background! Although she'll hate me for posting this one because she hates the hat she's wearing, but I think it's still a cute photo of us! =p

Okay, those are all I have for now. If I decide to post any pictures from the rest of the trip, it will be in a later post. I'm tired now and it's getting too hot up here in the office.