Simple and to the point, there is no better word that describes what has been going on in my life for the past few months. I've said it before, I'm not a huge fan of change. But, like the quote says, it's inevitable. However, at least I can say that the changes to my life recently have been good.
I suppose what started it all was back around the beginning of August when I upgraded my phone and gave in to Android. My old flip-phone had turned pretty ancient, compared to all of these new smartphones coming out in the cell phone market as of late. It has completely changed not only how I
use
my phone, but also how
often
I use it!
Then, around the beginning of September, I got hired as a retail sales representative for a dedicated Nestlé team that requires me to travel to different grocery stores and check their inventory of Nestlé products. It's only part-time, but it takes up alot more of my time than I had planned, which contributes to why I haven't really been posting photos at all. I work on the weekend now so I don't have the free time to take photography road trips anymore. (But I do have one more batch of photos to upload at the end of this post)
And the most recent change is that I got a new car. Due to the fact that my old 10-year-old Saturn failed the required smog test, and when I say failed, I mean failed miserably. It wouldn't have been worth it to spend the money to fix it, and since I use my car for traveling so much for my job, it was more of an investment to just replace the car. I didn't realize quite how bad my car was running until I started driving this new (well 2006 but it's new to me!) Mazda.
Now on to some photos! These were taken towards the middle of August, shortly after I got my new phone. I was testing out the camera on my phone to take these photos. We visited the Redwood Regional Park in Oakland, CA for a 5 mile hike through the forest, along with the two irish setters as well.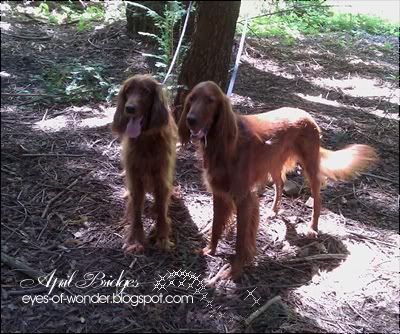 Mari and Guinness enjoying the fresh air.

Very reminiscent of Muir Woods across the bay.

Catching the sun between the trees - my favorite of the day.

Different angle from the bottom of the tree looking up.

Jacques and I taking a break for a pic.

Random view along the trail.

Giving the dogs a water break - Mari stops to look up at me.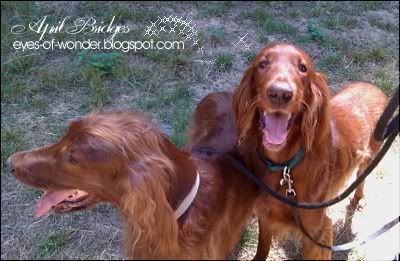 And now Guinness. I couldn't get one of them both looking at the same time.

Pathway along the trail. Shortly after this started the steep hike up the hill.

Stopping to catch the sun again!

Jacques, me and his daughter Erin on a water break.
And now here are a couple photos of my new car ~ 2006 Mazda 6 Hatchback. I love it!!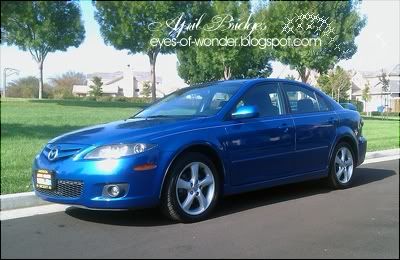 It has proved very useful these past few weeks and I'm loving how smoothly it drives! Despite the fact that I hit a bad pothole and am going to have to replace one of the high-profile tires... Damn California highway roads.