Hello again. I woke up this morning to find that it was lightly snowing outside! I got so excited that I had to take pictures, of course. Here they are:






Here are our (mine and Keith's) cars covered in snow!







Closeup of the front view of my car.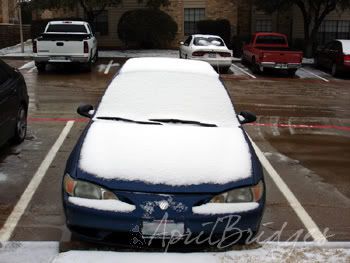 Closeup of Keith's front view of his car.








The outside view of my apartment...we didn't get enough snow to completely cover the ground, but still it was the first time there was enough to actually STICK to the ground..so I thought it was important. heh.


The picture above was taken outside of the UTA bookstore, which I found out was closed due to the weather, after I'd driven all the way up there to change out my books for my history class, because I'd gotten the wrong ones. It really made me mad, because the roads weren't even bad AT ALL.





So, after seeing that the bookstore was closed, Keith and I decided to walk around campus and get some snowy, wintery pictures, while we were already up there.






Just a random shot that I thought was pretty.






This is a cool fountain located outside of the University Hall building, where my history and government classes are held. I liked how you can see the ice that built up around the design.






Another random capture of the path we were walking along.







Now this is a building that I just like. Most of all, its shape. It's designed like a triangle and this view is looking from one of the sharp angles. I believe the name of the building is Packard Hall. (But don't quote me on that...I'm still learning the names of the buildings and where they all are...)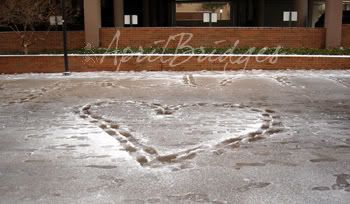 This is something that caught our eyes just by walking by. Someone had created this heart in the snow, out of footsteps in the shape of a heart. It was pretty cool to see in person.





heh...this is my attempt at writing "I ♥ Keith" in the snow. I had forgotten my gloves in the car, so my finger was getting kinda numb by the time I reached "h."






This was a mini-snowman that we saw just as we were driving into my apartment complex ... and I thought it was too cute, so I had to get a picture...